af Kenneth Degnbol, forfatter og højskolelærer på Rønde Højskole.
Anmeldelse. I bogen Tanker fra en rus følger vi hovedpersonen Peter igennem tyve år af sit liv fra universitetstiden til en karriere som først og fremmest advokat og i mindre grad som familiefar. Peter forholder sig undervejs refleksiv til sine omgivelser og derfor er en stor del af bogens potentiale en indbygget kritik af uddannelsesinstitutionerne, det neoliberale samfund og ikke mindst det, man kan kalde individets mulighed for at komme til sig selv i hel Kierkegaardsk forstand.
Bogen begynder med den for universitetsbegyndelsen obligatoriske rustur, hvor alkohol er en så overskyggende faktor der gør, at alle i grunden skjuler sig for hinanden, og ingen kan vise sig med de drømme og forventninger, de nye studerende, Peter ikke mindst, møder op med. For Peter bliver det en stor skuffelse, som han dog ikke magter at gør noget ved. Måske fordi han savner muligheder, eller fordi indsigten først vokser med tiden. I hvert fald gør han som de fleste; kæmper med studierne, med studielivet, gør det som rammerne byder ham, men hele tiden med en længsel efter, at den grænseløst videbegærlige, akademiske og sandhedssøgende student skal indfinde sig.
En del af kritikken retter sig mod alkoholkulturen i universitetsmiljøet. Det er ikke bogens hovedtema, men det fungerer som et symbol for det overordnede eksistentielle tema om at blive sig selv. Alkohol står ifølge Peter i vejen for, at det egentlige Jeg kan udspille sig. Men Peters kamp handler også om at overtage sig selv i forhold til studievalget, for er det i grunden hans valg, når hele familien har tradition for at gå vejen omkring det juridiske fakultet? Og når vi senere i livet møder Peter som en succesfuld advokat, er det så egentlig et resultat af den måde, han i virkeligheden ønsker at leve sit liv på, når han knokler for at have betydning i firmaet, mens han savner at se mere til sin kone, Lise, og deres barn, Alma? I den forstand er der mere end alkohollen, der står i vejen, men fællesnævneren er det at leve livet uden rigtigt at tage det ind.
Tanker fra en rus er en debutroman skrevet af Kasper Selmar Pedersen. Han er selv studerende på Århus Universitet, og man aner et muligt selvbiografisk islæt undervejs i læsningen, og det giver mening, når han om romanen skriver, at det er en førstehåndsskildring af blandt andet universitetssystemet.
Peter er akademiker ligesom Kasper er det. Derfor er det troværdigt, når Peter i sine refleksioner undervejs i bogen inddrager vidt forskellige perspektiver af filosofisk og samfundsteoretisk karakter til at underbygge sine iagttagelser. F.eks. perspektiverer han hele karaktersystemet på universitetet ved at inddrage Black swan-teorien af den libanesisk-amerikanske statistiker Nassim Nicholas Taleb, der handler om den undervurderede betydning, vi tillægger tilfældigheder – i historiefaget såvel som i vores fremtidsprognoser for blandt andet makrobevægelser på det finansielle marked.  Uforudsigelige hændelser spiller ifølge teorien en større og større rolle, samtidig med at særligt unge ikke har lært at tillægge det nogen betydning. Resultatet er i universitetsverdenen et system, der blindt styrer efter karakterer, mens Peter (i denne del af bogen som underviser) godt ved, at de ikke tilbyder en særlig stor grad af objektiv sandhed om de studerendes evner og præstationer. Peter kommer ikke med forslag til ændringer, og det er kendetegnende for ham. Peter er den klassisk dannede advokat (der endda skriver glimrende poesi), der kan sin samfundskritik, men ikke evner at ændre noget. Måske før til allersidst i romanen. På den måde indskriver romanen sig i en den klassiske tradition for dannelsesromaner. Romanens konflikt er den voksende kløft mellem det faktisk levede liv, og Peters følelse af, at det er hans liv og hans egne genuine valg. Indtil kløften bliver stor nok og kalder på en forandring.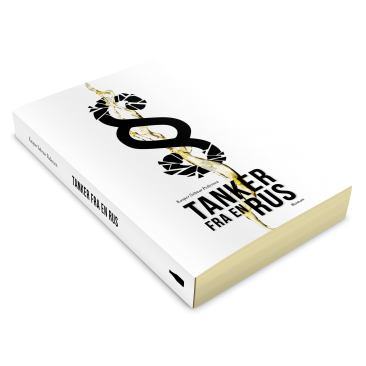 Bogen er velskrevet med et godt sprog og en stringent form, hvor Peter er eneste synsvinkelbærer. Hans figur forekommer troværdig i den bevægelse han gennemgår fra tyveårig naiv russer til den 40-åriges forhærdelse – samtidig med at hans eksistentielle længsel er uforandret, hvilket borger godt for os alle sammen. Balancen mellem de rene beskrivelser og de refleksive dele er jævn bogen igennem. Kasper Selmar Pedersen er selvudgiver, men han skal roses for at have sat en redaktør på bogen. Stilistisk renhed og den nævnte balance kan ofte være svær at finde for selvudgivere, der står alene med manuskriptet fra først til sidst, så måske er Kasper her tak skyldig til sin redaktør Stine Liberty Svenningsen.
De reflekterende dele af bogen nærmer sig en essayistisk, fabulerende stil. Det er ikke comme il faut i alle litterære miljøer. Men jeg tager hatten af for modet til at overskride den rene beskrivende stil med fortolkningerne. Det er troværdigt, at hovedpersonen, der jo netop er akademisk skolet, bringer teorier i spil, når han forsøger at forstå verden, for er det ikke netop sådan mange af os gebærder os, når vi i dialektikkens navn tænker, at der må være flere forklaringer på spil? Under alle omstændigheder er det inspirerende, ikke mindst for undertegnede.
Bogens styrke er samtidig også dens svaghed. Peter er på mange måder en person som alle andre, der har betrådt universitets institutter frem mod et liv, hvor karriere og familieliv lever en konstant tofrontskamp. Han er let at forbinde sig med, men mangler af samme grund også en kant. I en scene, der skal vise Peters jetset-liv som advokat, møder vi ham på jagt. Det er spændende læsning, og jeg var bjergtaget kapitlet igennem af den simple grund, at her tilbød der sig en for mig fremmed verden at træde ind i. Det udstiller samtidig udfordringen med mange af de andre kapitler. Meget af det, Peter gennemgår, er så dagligdags, så man savner en oplevelse. Når Peter for eksempel vågner på kollegiet og er frustreret over den natlige fest, som ingen har ryddet op efter, så er det noget, de fleste af os har oplevet så mange gange, så at udfylde det tema over adskillige sider, virker intetsigende. Når litteraturen er stor, er det når den på magisk vis, kan føre os nye steder hen. Det har Kasper Selmar Pedersen tilgode at vise os, at han kan. Og det er særlig sårbart i den strenge stil, hvor Peter alene bærer synsvinklen. Der skal meget til, når en enkelt person skal opretholde intensiteten. Han bliver ganske enkelt for let at leve sig ind i, fordi han næsten bliver for troværdig, for meget som en af os andre, for meget det gennemsnit, der kan udstille samfundets skyggesider, men ikke rigtig selv har skævheder.
Jeg håber, Kasper Selmar Pedersen tør holde fast i den fortolkende, kritiske og essayistiske stil, og forhåbentlig med en historie med mere spræl, skævhed og fantasi
Tillykke med debutten.
Tanker fra en rus er skrevet af Kasper Selmar Pedersen og udkommet (2015) udenom etablerede forlag. Køb bogen her.